Who could imagine that a crash in the woods of Vermont would propel him into a career in NASCAR, Indy Car and Formula One?
But then, the CIA came for him...
"It was gritty, brutal, propulsive, and had an American James Bond feel to it. A well-crafted thriller. I loved it."
C.E. Albanese
With reviews by Autosport, Ron Capps, Hurley Haywood, David Hobbs, and more…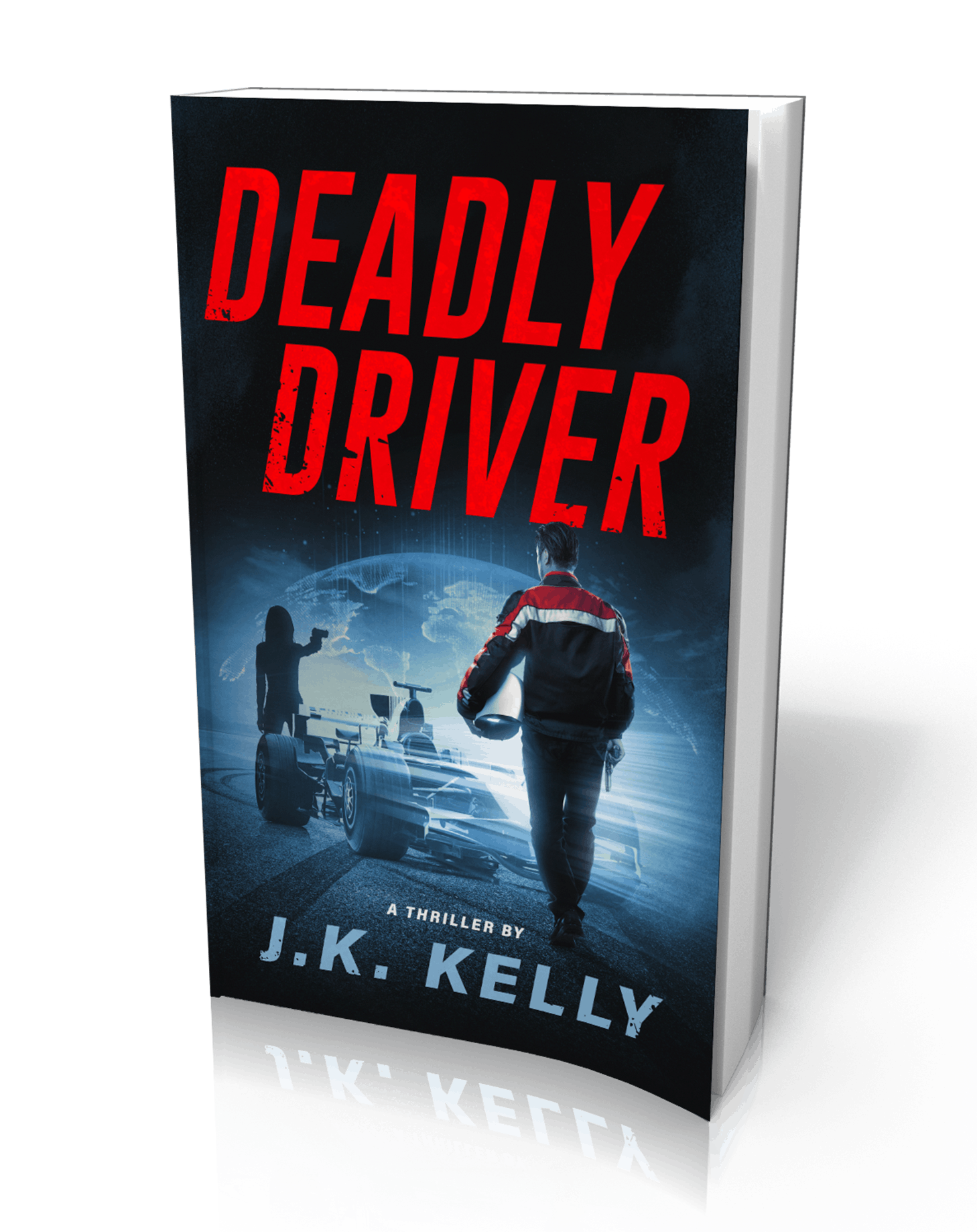 Deadly Driver - SPY DRIVER
Summary
Jetting off to Monte Carlo…speeding through the tight turns of a mountain road en route to an evening at the casino…what could be more exhilarating? After racing in a grand prix, Bryce Winters boards a luxury yacht to bask in the limelight and mingle with celebrities, only to find a gun to his head…
From the rolling hills of Vermont to some of the world's most powerful cities, Winters is thrust into improbable adventure, riveting intrigue, and elusive romance. The question remains: can he navigate around the dead-ends in a maze of CIA manipulation and entrapment—or will he fall prey to the sinister forces of underworld intelligence?
The Export
Summary
The tranquility of the moonlit beach in Thailand was a far cry from the Base Camp he'd visited months before. After all, people die on Everest all the time, that's to be expected. But when a trekker is found in his tent with a climbing ax stuck in his forehead that got people's attention. Coincidentally, a very talented investigator from the U.S. was there on a personal journey and was able to make some sense of the mystery - as much as time would allow.  The unique challenges he confronts from there and how he winds up standing over a beach body in Ko Samui is quite a tale in this prequel to The Export's Revenge.
Set up for a crime he didn't commit he was given a choice: serve jail time or practice your trade elsewhere. It didn't take his incredible intuition to make the smart move and on that day, Matt Christopher became THE EXPORT.
The action never stops. From helping a friend at MI5 stop a serial killer with ties to one of the most powerful figures in England, babysitting a fraud in Quebec, trying to rescue a father and son from their sordid game in Moscow, and escaping to the serenity of Zermatt only to be swept back in as a murderer reveals herself in the shadows of the Eagles Nest. When the woman who helped raise him, not just any woman but America's DNI, is found dead at her home in the states Matt's stunned when he finds what she's left behind. With his Achilles exposed - the one thing that washed him out of Navy SEALS training, his love for Bella may never be the same. A passport, for which Matt has many, isn't required for this thrill ride.
Read More
The Export's Revenge
Summary
Forced to work outside of his homeland, Matt Christopher is hired to provide security on a luxury yacht off the coast of Thailand but soon learns for the last time that his closest friend can't be trusted. Done with the boat and the bastard, The Export receives a call from his handler in America - his sister has been attacked in Rome and left for dead. The hunt for who did this takes an unsuspected turn when he sees a woman with ice in her veins, someone he'd given a second chance, staring back at him near the doors to the Vatican Museum. He elicits the help of Francesca, a trained operative with Italy's Special Forces who has an agenda of her own that may derail them and cost lives. From an encounter on the Stairs of Death in Peru to an invitation to the White House, Matt's journey continues until a long-lost brother emerges from England. It is then and there that Matt and Francesca must confront the ultimate betrayal when blood turns against blood.
Read More
THE BLOOD COMPASS
An International Thriller
FOR SOME, FAMILY IS EVERYTHING, but for private investigator Matt Christopher, they're all dead – except for the nephew he orphaned. Now living far from his home in America, Christopher uses his unique talents and wealth to protect the abused while his global security company looks after the rich and powerful. With the help of the challenging and elusive Francesca, the former Italian Navy SEAL he's fallen for, Christopher tries to focus on the future and forget the past. Still, a corrupt president and a practical pontiff won't let him. And then, of course, there's the little boy.
READ MORE
The Lost Pulse
Summary
The world is in crisis. Camp David lies in ruins. Fortifications resembling the Berlin Wall surround The White House. An assault on Guantanamo Bay releases dangerous enemies and leaves slaughtered guards lying in their blood. In the Vatican, the Pope is at risk, while in Moscow a powerful man seeks revenge.
In the never-ending war of good versus evil, passionate men and women will take on the challenge of rescuing civilization. But one will wage an even more personal crusade that may be doomed from the start.
In the critically acclaimed Found in Time, a select group of Marines was tasked with testing a top-secret time travel technology in the hope of turning the battle against terrorism in their favor. Following great reviews and in response to readers' requests for more, author JK Kelly continues the extraordinary journey and riveting action in The Lost Pulse.
Read More
About the Author
Author James Patterson gave JK some sound advice, "Give readers what they want," and since his debut novel through to his latest, DEADLY DRIVER, he has striven to do just that.
"If I'm guilty of anything," JK offers, "it's less time on the color of the curtains and more focus on fast pacing and weaving multiple threads that come together just in time for a happy ending."
While studying journalism at Penn State University JK traveled to auto races on weekends where he took photos he was able to sell to racing magazines. Once an editor suggested, "You're taking the pictures so you should write the feature stories that go with them," the first J.K. Kelly byline went to print.
After a stint with a high-profile NASCAR team JK spent the next thirty years traveling the world for VP Racing Fuels. He related his personal story in the entertaining, heart-breaking novel FUELIN' AROUND.
Now, six novels later, Kelly has just finished another thriller, THE BLOOD COMPASS. He lives in Media, Pennsylvania with his wife Lisa and continues a never ending pursuit of the next adventure.
Having worked in motorsports for decades but particularly enjoyed his time in the world of F1 and racing fuel, Kelly told his own story in the well-received novel FUELIN' AROUND. His latest – DEADLY DRIVER – is an international thriller about a Formula One race car driver who has made it to the top only to be compromised by America's CIA. Reviews from champion racers, book lovers, and the media alike have been excellent. What's next? Screenwriting. JK has adapted DEADLY DRIVER, often referred to as SPY DRIVER for the big screen and has recently completed THE LOST BIRD, an action-adventure drama, and SANGUE – an international crime thriller.
Read More